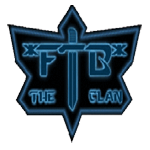 After 3+ years of being on hiatus, The FTB Clan is finally back into Unreal Tournament (4)!
Back in 2015-2017 The FTB Clan ran UT4's very first |ZARK| and then eventually, BinSlayer server. Now we are back at it.
Our HUB Has 3 quick setup gametypes: BinSlayer CTF, Elimation & Regular Weapons DM.
Our HUB is under construction getting more and more added on every week.
Currently our BinSlayer Gametype has 1 BinSlayer rifle and a custom, faster translocator with about 10-15 custom maps remade from our UT99 server and 5ish default UT4 CTF Maps.
BinSlayer = Rapid Fire Rifle That Shoots The Same Projectiles As The RocketLauncher, However The Projectiles On The BinSlayer Arrive At Their Target INSTANTLY!
This particular version of the binslayer rifle is designed from the appearance of the link gun.
We play on our UT4 server every Sunday night during the Football offseason @ 9est/8cst
HUB Name: *FTB*~Customized UT4 HUB~
HUB IP Address: 74.91.124.251
Server Admin, Map Recreator and Weapon Maker: EvolutionZero.
Server Settings:
GameSpeed: 155
1 Second Spawn Protection
Low Gravity
No Self Damage
Fast Weapon Switch
Triple Jump (UT2004Movement Mod)
HalfTime Disabled
Translocator Enabled
1 Weapon: The BinSlayer Rifle